Rethink your limits
At Catalyst Physio and Sports Performance, the primary focus is to provide each and every individual with an impulse for change. We don't start from a place of limitation, instead exploring the possibilities available to each person.
Book an appointment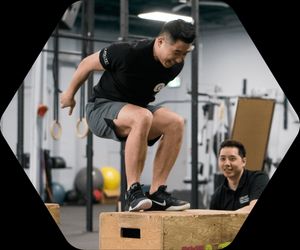 Getting you moving
Our services
We believe you deserve more than what a standard physiotherapy clinic provides – one on one treatments with the physiotherapist with longer treatment times, to ensure you have the time you need and you get the care you deserve. You are always our top priority.
View all services
Make the impossible, possible
Become a better you
Whether it is decreasing pain, improving function, maximizing performance, and everything in between, it is our goal to push those limits you didn't think were possible. We believe in making you anti-fragile, and in doing so allow for you to achieve your goals, while also understanding how to self-manage and take steps to prevent future injuries.
Book an appointment
Therapy superstars
Reviews
Lillia W
I've been seeing Vince for a few years and he is one of the best Physios around. Vince takes his time and really cares about his patients. He does not over-correct certain movements or overwork injuries. Vince uses evidence-based gentle approaches to exercise and treatment. Another bonus is that he is nice to talk to so it makes any pain or issues you are having more pleasant to deal with. I highly recommend Vince if you are considering any sort of Physiotherapy treatment in Edmonton!
Jodi H
Vince is so thorough and attentive! His focus is to empower you with long-term healing techniques that will help you achieve your goals. Bells and whistles he is not…so if you're looking for all the machines and gadgets that provide only passive, short-term relief - his treatment methods are not that. He's all about effective, acute physio that invites YOU to take control of your healing and heighten your awareness of how your body works as a unit! He truly provides life-changing care!
Dan D
After dealing with an injury for a number of months, I was looking for a second opinion and was referred to Vince. He was very knowledgeable, professional and listened when I explained my symptoms. After my initial assessment he built a treatment plan to get me back to work symptom free. I was very pleased with the progress and timeline it took to get me back to my goal. I would recommend Catalyst and Vince to anyone dealing with an injury, whether it's a new or lingering issue.
Leslieanna B
What a healthy and fun experience! I recently had a hip replacement and worked through my recovery with Vince. Not only did he give me active physio support but he uses adaptive strategies for personality and mind set so that I was able to incorporate proper exercise into my day (because I really don't like working out) I use his suggestions daily at work and think of him when I run into problems. I happily recommend a visit!!